In 2003, a superb Canadian documentary named The Corporation was based on a simple finding: the behavior of many corporations matches the character traits attributed to a psychopath in the Diagnostic and Statistical Manual of Mental Disorders. In fact, during its filming the documentary's screenwriter, attorney Joel Bakan, wrote a book entitled The Corporation: The Pathological Pursuit of Profit and Power.
Participants in Occupy Wall Street protests would be well advised to revisit The Corporation. Why? Since the United States Supreme Court's 2010 decision in Citizens United v. Federal Election Commission, environmentalists and conservationists have a new perspective with which to examine corporate behavior by oil companies such as:
Union Carbide India Limited (which was responsible for 1984's Bhopal disaster).
Chevron Corporation (whose impact on the environment and people of Ecuador was documented by Joe Berlinger in 2009's Crude).
BP (which was responsible for the Deepwater Horizon oil spill).

Unfortunately, oil companies are not the only culprits in environmental disasters. Following 2010's Upper Big Branch Mine disaster, the negligence of Massey Energy was identified as a major contributing cause.
In 2010, the San Francisco Documentary Festival screened Dreamland, a horrifying film about how Iceland's population got sold down the river when Alcoa's success at corrupting Icelandic officials led to the K?rahnj?kar Hydropower Plant and the destruction of Iceland's formerly healthy economy. In 2011, DocFest screened a film about a multinational corporation intent on building five huge dams in Chile that will have a huge (and potentially disastrous) impact on that nation's environment.
The yearly runoff from the northern Patagonian ice sheet makes its way to the Pacific Ocean via the Baker and Pascua rivers. Not only would the proposed dams across these rivers have a critical impact on the land and the people who live in Patagonia, the reasoning for the dams is a bit lopsided.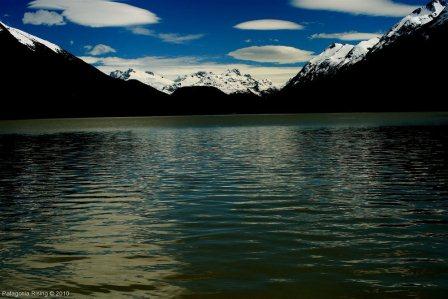 Lake Colonia lies at the foot of the Colonia Glacier in Patagonia

Endesa, a Spanish corporation, wants to generate hydroelectric power from these dams which can be used to supply the demands of Santiago, the nation's capital 1,200 miles to the north. This electricity would be transmitted over high-tension lines built by a Canadian company.
One of the Chileans who is interviewed in Patagonia Rising stresses that there is a much simpler alternative which will not ruin the land: use solar panels to capture the sun's rays as they reach Santiago. Between the smart use of wind turbines and solar energy, there should be sufficient power generated to service the region's energy needs. As filmmaker Brian Lilla explains:
Fifteen years ago, I was in Patagonia and the place blew my mind. When I was approached to direct a documentary that could potentially impact the decision to not build the dams, I immediately jumped on board. If we were living in prehistoric times, I would be the caveman who would volunteer to carve on walls after a hunt rather than skinning the beast. How I went from making Super-8 skate films to getting caught up in an international controversy over water and power still has me baffled. Before filmmaking, much of my life was focused on having a good adventure. Directing Patagonia Rising allowed me to keep that adventure alive. Through the process of making the documentary, I learned so much in regard to the human relationship to rivers. My greatest hope is that this experience transcends to audiences and makes a positive impact on the choices we make regarding water and power.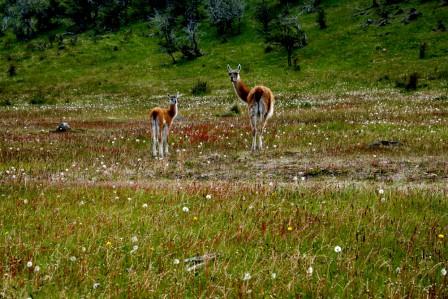 Llamas grazing in Patagonia

Patagonia Rising is filled with beautiful footage of the Patagonian alps as well as bucolic scenes of Chile's gauchos, farmers, and ranchers who would become the victims of Endesa's huge power grab. Needless to say, Lilla's provocative film also has plenty of talking heads. Here's the trailer:

To read more of George Heymont go to My Cultural Landscape
?
Follow George Heymont on Twitter: www.twitter.com/geoheymont
green party day 26 gronkowski new hunger games trailer sasquatch david choe national wear red day